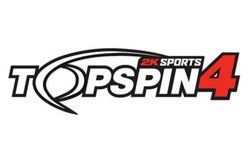 The Top Spin 4 demo has been launched two weeks before the 18th March release and gives gamers an opportunity to experience the games intense action of professional tennis with a new, intuitive control system that is accessible and rewarding to gamers of all skill levels. Players will also get a glimpse of Top Spin 4's breathtaking player models, each complete with their own Signature Style, and a new TV broadcast presentation that brings tennis to life with pre-match animation sequences, diverse crowd reactions and dynamic broadcast style camera angles.
The demo also allows players to recreate some of tennis' most memorial moments with the top pros such as Rafael Nadal, Roger Federer, Ana Ivanovic and Serena Williams in such world-renowned tournaments as the US Open or the French Open in a tie-break match to seven points.
Developed by 2K Czech, Top Spin 4 has is set to redefine the way you experience the game of tennis with innovative controls that make TS4 easy to pick-up-and-play and the most feature-rich title of the Top Spin series so far.
Top Spin 4 is due for release in the UK on the 18th March 18, Pre-order Xbox 360, PlayStation 3 and Wii.