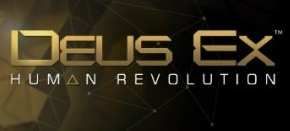 SQUARE ENIX Today announced the release date for Deus Ex: Human Revolution as 26th August 2011 for Xbox 360, PS3 and Windows PC in Europe and PAL regions.
"We are extremely excited and proud of DEUS EX: HUMAN REVOLUTION and cannot wait to finally let gamers experience this unique and captivating game," said Stephane D'Astous, general manager of Eidos-Montreal. "The team has worked incredibly hard these last few years to create an unforgettable universe which introduces franchise fans and new players alike to this powerful vision of the future, where the choices you make create your own personal gameplay experience."
DEUS EX: HUMAN REVOLUTION is an action RPG that offers open-ended, hybrid gameplay and tells the story of Adam Jensen, a man cybernetically augmented against his choice who finds himself in the middle of a global conspiracy to which he holds the key, DEUS EX: HUMAN REVOLUTION is set in a near-future world where humanity is at a turning point. By offering players the chance to play the game in multiple and vastly different ways, DEUS EX: HUMAN REVOLUTION challenges the foundations of gaming and provides an immersive experience where every choice has a lasting consequence.
"As this is the first game from our hugely talented Eidos-Montreal studio, it is sure to be something special," said Sarah Hoeksma, VP Brand, Square Enix Europe. "DEUS EX has an unparalleled heritage in videogames and creating DEUS EX: HUMAN REVOLUTION has demanded an incredible level of energy, creativity and passion as we look to continue that lineage."
Gamers can preorder the standard edition game and which comes with the Explosive Mission Pack or the highly collectable and strictly limited Augmented Edition.
The Explosive Mission Pack features an entirely new mission with a special cameo appearance from one of the original DEUS EX characters, plus the Automatic Unlocking Device, the M-28 Utility Remote-Detonated Explosive Device (UR-DED) and the Linebacker G-87 multiple shot grenade launcher.
The Augmented Edition boasts features the same exclusive mission as the Explosive Mission Pack, 10,000 extra credits to buy or upgrade weapons, plus a Huntsman Silverback Double-Barrel Shotgun, the SERSR Longsword Whisperhead silenced sniper rifle, the Linebacker G-87 multiple shot grenade launcher, an Automatic Unlocking Device and the M-28 Utility Remote-Detonated Explosive Device (UR-DED). If that's not enough, the Augmented Edition also contains an exclusive bonus DVD featuring a 44- minute "making of" special, game soundtrack, motion-comic (adapted from DC's official series), the E3 trailer and animated storyboard, and a 40-page art book.
STORY
The year is 2027, a time of great innovation in neuroprosthetics, but also a time of chaos and conspiracy and a new social divide. The "have 'and "have-nots" are redefined by those who can afford augmentations and those who cannot. Adam Jensen is an ex-SWAT specialist who has been handpicked to oversee the defensive needs of one of America's most experimental biotechnology firms. Badly wounded during an attack on the facility, Adam is mechanically augmented against his will and soon finds himself chasing down leads all over the world, never knowing who to trust. Adam begins to question the ethics around neuroprosthetics, and everything he thought he knew. Someone is working very hard to ensure mankind's evolution follows a particular path. Unravel the truth behind a conspiracy rooted in the foundation of the world around you as it incites a new revolution.
KEY FEATURES
● A legend reborn: DEUS EX® makes its much‐anticipated return delivering players an unmatched gaming experience ● Ultimate fusion of action and role-play: A unique combination of action-packed close-quarter takedowns and intense shooting, offering a vast array of augmentations and upgrades for the many weapons at your disposal ● Multi-solution structure: Choose how to accomplish each mission using combat, hacking, stealth or social mode to create a customized experience to suit any gaming style. ● Choice and consequence: Live in a reactive world in which a multitude of approaches, paths, and tools are at the player's disposal- each choice resulting in a consequence that affects the game dynamics and story ● Diverse customization: Engage in combat and challenges utilizing deep, specialized character augmentations and weapon upgrades ● Unique visual design: Become immersed in a Cyber Renaissance setting that masterfully blends near future and Renaissance era styles ● Explore the world: Traverse numerous locales across the globe — each with its own distinct art direction — in Adam's search to uncover a worldwide conspiracy
Pre-order the Standard Edition on Xbox 360, PS3 and PC
or the Augmented Edition on Xbox 360, PS3 and PC