I'd been quite interested in trying out a gaming headset for some time so when Turtle Beach agreed to send out a review unit I was stoked.. The unit sent was the impressive  Ear Force DX-11 Wired Surround Sound headset which features two fantastic products in one package, those being the DSS unit combined with the ultra light (good for long gaming sessions) and extremely comfy oversized X11 headphones with their Fabric Mesh Cushions with that let you immerse yourself in precision like 7.1 full Dolby digital surround sound and a boom mic that swings out of the way when playing solo, the boom mic is optimised for XboxLive chat and it does an extremely good job of mixing game sounds with Live chat.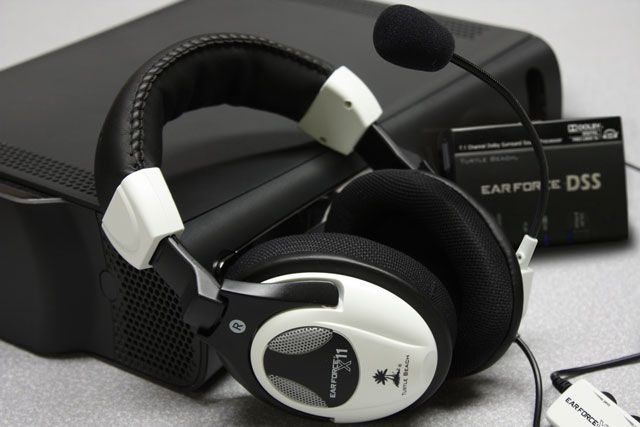 I reviewed the DX-11 on games such as Call of Duty Black Ops, Modern Warfare 2, Medal of Honor, Bulletstorm and Dead Space 2, Killzone 3 and ALL of these games sounded crystal clear with sound cues that you would'nt normally hear in-game if using just TV's Speakers, sounds such as an enemy reloading their weapon in the distance or their footsteps as they try to sneak up on you, This is all possible thanks to the Ear Force DX11 's 40mm high-fidelity stereo speakers combined with the DSS unit, add to this the ability to still chat to your mates over Xbox Live as you immerse yourself deeper into a game. The DSS unit does a fantastic job of delivering surround sound fed from either your Xbox 360′s component or optical leads.
The DSS unit is also available to buy seperatly if you already own a USB gaming headset, simply plug the DSS unit in and then connect your gaming headset of choice into the unit and prepare for enhanced sounding game play with deep bass that gets your heart pounding during tense in-game moments. While playing through DeadSpace 2 and Black Ops the DX-11′s really helped to identify which directions the enemies were coming from giving you an instant advantage over both online and offline opponents.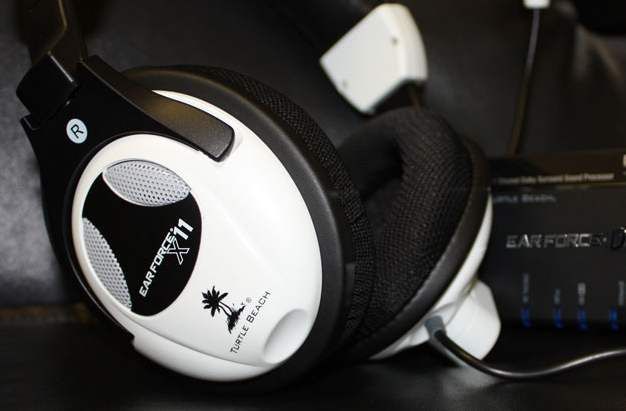 The DX-11headphones come in black and white with circum aural ear cups and a deep / comfy cushioned headband, Everything you need to get yourself in the game is included in the box including an extra-long 16-foot cable that makes it easy to sit and play anywhere.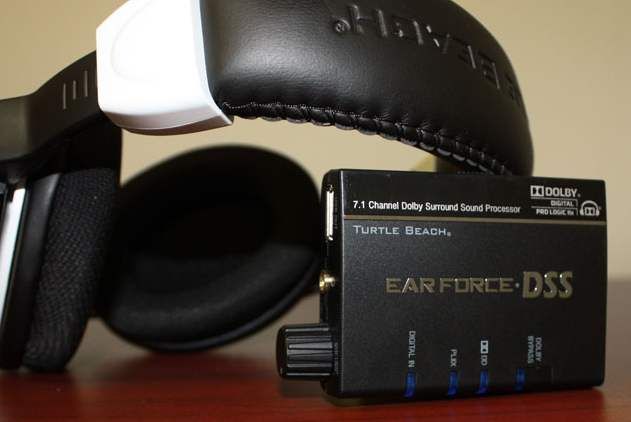 If you are looking for a good quality surround sound headset that's easy to hook up to your X360 via components or Tos-link then the DX-11′s are a serious piece of kit that brings out hidden sound cues in games. 
Turtle Beach X11 FeaturesHeadphones - 40mm diameter speakers with neodymium magnet - Speaker Frequency Response: 30Hz – 20kHz, >120dB SPL @ 1kHz - Condenser Microphone Frequency Response: 50Hz – 15kHz - Cable length: 16 ft. (4.877m) - Weight: 6.4 oz (233g)
The DX-11 Unit we reviewed was supplied by Turtlebeach and retails for £87.85
In-Line Amplifier - Headphone Amplifier: Stereo DC-coupled, 35mW/ch, THD <1%, Frequency Response: DC – 30kHz - Mic mute switch - XBOX® controller 2.5mm input jack - Maximum analog input level with volume control on maximum setting: 2Vpp (700mV rms) - 3.5mm plug for mic output - 3.5mm plug for line input - Weight: 1.3 Oz (36g) - USB connector for power (5VDC @ <50mA max) - Dimensions: Height .5in (1.27cm), Width 2in (5.08cm), Depth .75in (1.905cm)
Turtle Beach Ear Force DSS Unit Features - Stereo headphone output with volume control - Headphone Amplifier: Stereo 35mW/ch, THD <1% - Frequency response: 20Hz – 20kHz - 150MIPS Digital Signal Processor for Dolby processing - Optical TOSLINK digital audio input compatible with 48kHz digital audio stream - Maximum analog stereo input with volume control on maximum setting: 2Vpp (700mV rms). Input sensitivity may be adjusted to accept higher level signals by lowering the volume control - Dimensions: Height 3.0 in (7.5 cm), width 2.125 in (5.5 cm), depth 0.75 in (2cm) - Weight: 1.4 Oz (40g) - Power requirements: 5VDC @120mA max