The BiPAC 7800N is the first router we've had for review from Billion, and although it's not strictly a gaming router as this routers main market is that of an office environment, it can also be a gamers friend, whether connecting wirelessly or hard-wired.
The 7800N arrived from Billion very promptly and it came in an averaged sized box that contained quick start guides, three antennas, DSL and Ethernet cables so you can get setup quickly and easily.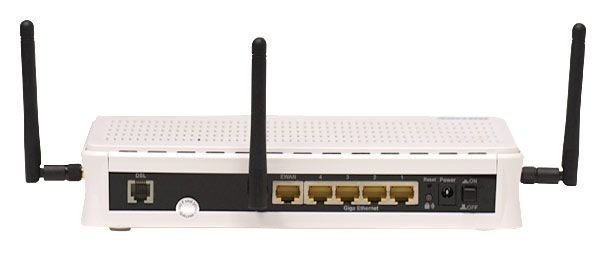 The three (yes 3!) antennas fix to the sides and rear of the router and make it quite wide compared to some other routers, It may seem strange to still use antennas in an age when a lot of routers now feature hidden antennas, but we found that the three antennas helped to boost the dual WAN wireless signal to both of our test consoles (Xbox 360 250gb Slim (N) and a PS3 Slim 320gb).
Setting up the 7800N was extremely easy, Just connect it up (ADSL or Cable lead, Ethernet to PC and Power Lead) open up your browser and enter the default IP to take you to the config screen, Go to the wizard and set up the router how you want it, One of the Billions unique selling points is its ability to work with ADSL, ADSL2+ and cable connections, add to this a 4port Gigabit Ethernet switch and you've got a powerful main network component.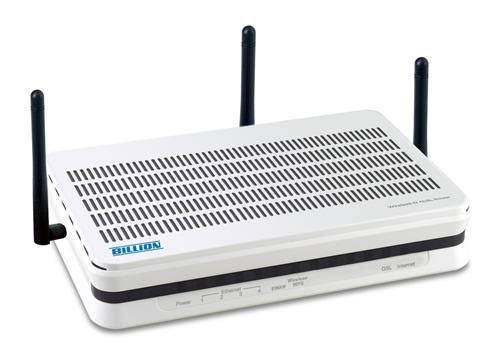 From a gamers point of view the 7800N is a wireless N (300Mbps) unit that will makes use of the Xbox 360 Slims internal Wireless N adaptor (Or the PS3's Wireless G adaptor) for faster and more stable online gaming, If you want to experience even more stability while gaming then simply add a couple of Billion P106 homeplug adaptors, these are rated at 200mbs and offer more stability over any wireless connection as they basically give the same stability as a hard wired connection with the portability of wireless, due to you only needing to plug into a nearby 13A socket outlet. We tried these adaptors and found that we had a slightly lower ping and better connection speeds over the wireless connection, With games such as Call of Duty Black Ops, Modern Combat 2, Medal of Honor and Halo Reach all having a constantly full connection bar, this was helped with features such as the built in Quality of Service (QoS) control and firewall.
The configuration screens are nicely laid out and they are quite pleasing to look at and there's no shortage of settings for the more advanced user, such as permanently assigning an address to a device or remotely managing your network, these things are not a problem for the 7800N. One thing I'd recommend though is that you spend a bit of time reading through the settings / options to get as much as possible out of this feature packed router as possible.

Billion seem to pride themselves on the stability of their routers, and in the three to four weeks that we used had this kit set-up we didn't have to rest the router once, it provided a rock solid network connection to BT internet (ADSL) at all times, Speeds were consistent with the Sitecom WL-309 Gaming Router II that we also tested. Both Routers required firmware upgrades prior to testing as they were shipped with older version of firmware.
Cost of a BiPAC 7800N is around £120, This may seem expensive for a router and all I can say is that I doubt you will look back due to Billions renowned stability..
Summary: If you want a router that's easy to set-up straight out of the box that's easy to use for gaming or home use then may be the router for you with its rock-solid connection.