Batman Arkham Asylum was undoubtedly one of the greatest releases of 2009, so when we first started hearing about the sequel we broke into a cold sweat. Below are the latest screen shots of the 2011 release, Batman Arkham City, looking very moody indeed. For your pleasure I have popped the teaser trailer at the bottom as well. We cant wait to start stealthily beating the living hell out of Gothams criminals all over again!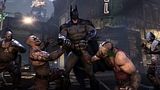 Batman Arkham City Teaser Trailer
If you haven't played the original Batman Arkham Asylum then….you're an idiot quite frankly, however this is easily rectified.