Bonus program
Currently 6 people are about to buy this
PlayStation Plus 12 Month UK Membership PS5 / PS4

STACKING MEMBERSHIPS
- As PlayStation prepares to launch the new PlayStation Plus membership service, they are doing some work behind the scenes to make the transition as smooth as possible for all existing members.
As part of this work, adding additional time or "stacking" PlayStation Plus or PlayStation Now membership is temporarily disabled in preparation for the launch.
Existing members will be able to redeem their code either when their existing membership expires and deactivates, or after the new PlayStation Plus service launches on June 22nd, whichever happens first. More detail around the changes to PlayStation Plus & PlayStation Now can be found on the
PlayStation Blog
.

PlayStation Plus 1 Year UK Membership
This 12 month PlayStation Plus membership will allow you to play multi player and single player games online.If one of your friends does not own a game but you do, they can play with you online.
How will I get my PS PLUS 1 Year UK membership?
Go to my account> Digital Items > click "View Details" tab
*By placing your order, you agree to our Digital T&Cs.
*This product is non-returnable and non-refundable.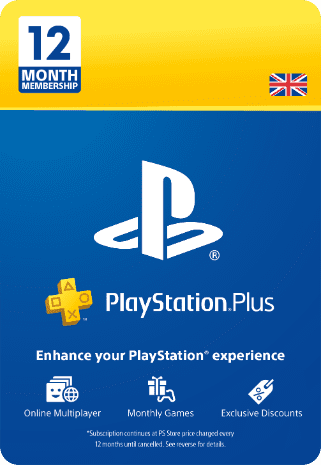 12 Month PlayStation Plus Membership (DIGITAL)
How To Redeeem Your Subscription

1. Once purchased you can find your code in the Digital Items section of your ShopTo account.
2. On the Digital Items page select the View Details button on the relevant digital item.
3. Wait for the code to be retrieved. DO NOT REFRESH THE PAGE.
4. Once the code has been retrieved follow the relevant instructions to redeem the code:

Web Browser

1. Go to PlayStation Store and click on your Avatar at the top of the screen.
2. Select Redeem Codes from the drop-down menu.
3. Carefully enter the code and select Redeem.
4. The credit or content is now applied to your account.

PS5

1. Go to Settings > Users and Accounts.
2. Select Account > Payment and Subscriptions > Redeem Codes.
3. Enter the code and select Redeem.

PS4

1. Go to PlayStation Store > scroll to the bottom of the sidebar > Redeem Codes.
2. Carefully enter the code and select Redeem.
3. The credit or content is now applied to your account.


Currently 6 people are about to buy this