Bonus program
This product does not qualify for reward points or membership discount

Warranty
Problem with your product? Don't worry! We'll collect and replace it, for
FREE
.

Live the game with PS VR – the new great-value PlayStation®VR Mega Pack takes you straight to the heart of five thrilling VR adventures.

Immerse yourself in hundreds of mind-blowing virtual reality games and experiences. Travel through an endless universe, explore fantasy realms, blast your way through the criminal underworld, and lose yourself to the beat.

Read more below...
---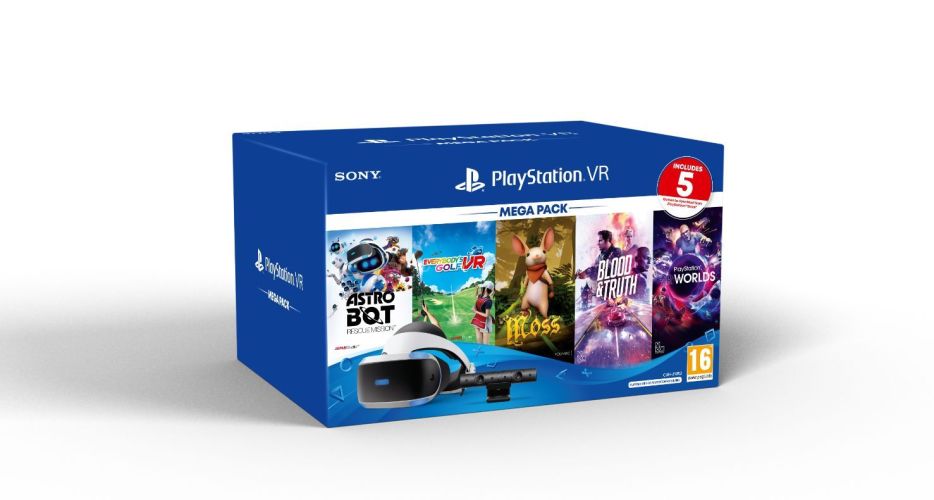 Immerse yourself with the new PlayStation®VR Mega Pack.
---
Live The Game
Take gaming to new heights, depths and levels of immersion to discover breathtaking new worlds every time you put on the headset.

Immerse yourself in hundreds of mind-blowing virtual reality games and experiences. Travel through an endless universe, explore fantasy realms, blast your way through the criminal underworld, lose yourself to the beat or play your way to victory in a classic sports game.

360º Vision
Absorb every second of the action through a custom 5.7' OLED screen with smooth visuals and super low latency.

3D Audio
Hear approaching footsteps or distant screams with pinpoint accuracy through cutting-edge surround sound.

Intuitive Controls
A complete tracking system follows every movement of the DUALSHOCK®4 wireless controller, PlayStation®Move motion controller(s) or PlayStation®VR aim controller.

Built-in Microphone
Chat with friends to swap hints and tactics with the built-in microphone.

One Size Fits All
The PS VR headset is designed to be very easy to put on and take off, with an adjustable headband and optical scope for the perfect fit.

Five Acclaimed Games to Download from PlayStation™Store*
ASTRO BOT Rescue Mission™ Blue alert… Captain ASTRO's crew-bots are missing! Grab your multi-tool controller and blast off on a wild VR platform adventure like you've never seen. Look and lean in any direction to judge death-defying leaps and use your whole body to interact with your surroundings to solve puzzles.

Everybody's Golf™ VR Welcome to the Club. Step onto the course and swing for the flag in the most immersive Everybody's Golf™ experience ever. Tee up your dream shots with a PlayStation®Move motion controller or a DUALSHOCK®4 wireless controller – and don't forget to ask your own personal caddie for handy hints and tips.

Moss™ Moss™ is a single-player action-adventure puzzle game from Polyarc, tailor-made for the VR platform. It takes compelling characters, gripping combat and captivating world exploration and combines them all with the exciting possibilities of virtual reality.

Blood & Truth™ Star in your own explosive action movie blockbuster with this PS VR exclusive shooter. Battle through the crime-ridden London underworld as elite Special Forces soldier Ryan Marks in your deadliest mission yet… to save your family from a ruthless criminal empire.

PlayStation® VR Worlds Discover the power and potential of PS VR in five exclusive virtual reality showcase games. Survive a gangster thrill-ride in The London Heist; plunge into the depths of Ocean Descent; hunt an alien artefact in Scavenger's Odyssey; weave through traffic in VR Luge; and destroy rivals in futuristic sport Danger Ball.

Play supported PS VR games on PlayStation®5 Playing PS VR games on a PS5™ console requires a PS VR headset, PlayStation®Camera for PS4™ (Model CUH-ZEY1 or CUH-ZEY2) and a PlayStation®Camera adaptor (all included in the bundle).

For the best PS VR experience on PS5 we recommend using a DUALSHOCK®4 wireless controller. Selected games may require PlayStation®Move motion controllers or be compatible with the PlayStation®VR aim controller. The new HD camera for PS5™ is not compatible with PS VR. The PS VR headset, PS Camera, DUALSHOCK®4 wireless controller, PS Move controllers and PS VR aim controller are all sold separately from PS5™.

* Redeemable on PlayStation™Store. Account for PlayStation™Network and high speed internet required. Users must be 16 years or older and users under 18 require parental consent. PlayStation™Network (PSN) and PlayStation™Store subject to terms of use and country and language restrictions. Full terms apply.

ASTRO BOT Rescue Mission and Moss require DUALSHOCK®4 wireless controller (DS4). Everybody's Golf VR, Blood & Truth and The London Heist (PlayStation VR Worlds) require PS Move controllers or DS4, sold separately.

DUALSHOCK®4 wireless controller required, sold separately.

"PlayStation", "PS5", "PS4" and "DUALSHOCK" are registered trademarks or trademarks of Sony Interactive Entertainment Inc.

ASTRO BOT Rescue Mission™ ©2018 Sony Interactive Entertainment Inc. Published by Sony Interactive Entertainment Europe Limited, 10 Great Marlborough Street, London, W1F 7LP. Developed by SIE Japan Studio. "Astro Bot Rescue Mission" is a trademark or a registered trademark of Sony Interactive Entertainment Europe. Everybody's Golf™ VR ©2019 Sony Interactive Entertainment Inc. Published by Sony Interactive Entertainment Europe Limited, 10 Great Marlborough Street, London, W1F 7LP. "Everybody's Golf" is a trademark or a registered trademark of Sony Interactive Entertainment Europe. Moss © 2020 Polyarc, Inc. All rights reserved. Moss is a trademark of Polyarc, Inc. Blood & Truth™ ©2019 Sony Interactive Entertainment Europe. Published by Sony Interactive Entertainment Europe Limited, 10 Great Marlborough Street, London, W1F 7LP. Developed by SIE London Studio. "Blood & Truth logo" is a trademark of Sony Interactive Entertainment Europe. PlayStation® VR Worlds ©2020 Sony Interactive Entertainment Europe Limited. Published by Sony Interactive Entertainment Europe Limited. Developed by SIE London Studio. All rights reserved.