Currently 3 people are seeing this product

Embark on the craziest journey of your life in It Takes Two. Invite a friend to join for free with Friend's Pass** across an abundance of gleefully disruptive gameplay challenges as the separated couple Cody and May. Created purely for co-op, this is a genre-bending platform adventure where only one thing's for certain: we're better together.

Play as the clashing couple Cody and May, two humans turned into dolls by a magic spell. Together, trapped in a fantastical world where the unpredictable hides around every corner, they are reluctantly challenged with saving their fractured relationship.

Read more below...
---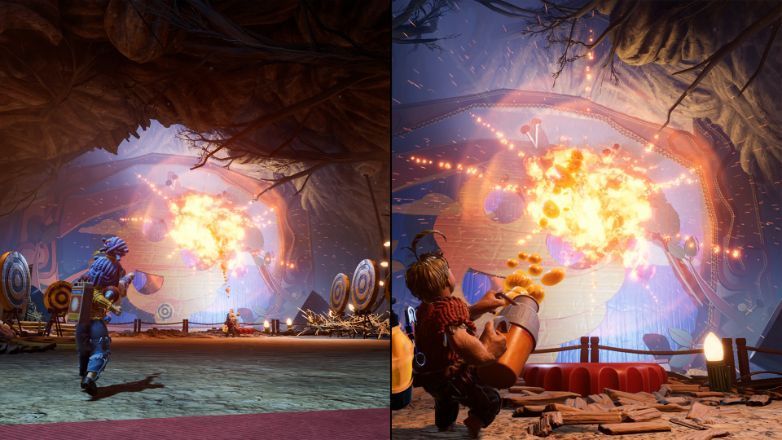 Master unique and connected character abilities at every new level. Help each other across an abundance of unexpected obstacles and laugh-out-loud moments.
---
Kick gangster squirrels' furry tails, pilot a pair of underpants, DJ a buzzing nightclub, and bobsleigh through a magical snow globe. Embrace a heartfelt and hilarious story, where narrative and gameplay are interwoven in a uniquely metaphorical experience.

It Takes Two is developed by the award-winning studio Hazelight, the industry leader of cooperative play. They are about to take you on a wild and wondrous ride where only one thing is for certain: we're better together.

Key Features
Pure Co-Op Perfection
Invite a friend to join for free with Friend's Pass**, and experience a thrilling adventure built purely for two. Choose from couch or online co-op with split-screen play, and face ever-changing challenges where working together is the only way forward.

Gleefully Disruptive Gameplay
From rampaging vacuum cleaners to suave love gurus – with It Takes Two, you never know what you're up against next. Filled with genre-bending challenges and new character abilities to master at every level, you'll experience a metaphorical merging of gameplay and narrative that pushes the boundaries of interactive storytelling.

A Universal Tale of Relationships
Discover a touching and heartfelt story of the challenges in getting along. Help Cody and May learn how to overcome their differences. Meet a diverse cast of strange and endearing characters. Join forces, and go on an adventure you'll treasure – together!