Crazy Chicken: Shooter Bundle
Howdy partner and welcome to the wild west. Lawlessness has broken out in Gun City. Shooting desperado chickens have chased the sheriff out of town. in this once so peaceful town, nobody is safe anymore. You're the new sheriff in town and you must restore law and order by taking out these renegade chickens.

With over 15 million games sold worldwide, Moorhuhn is one of the best-known and most successful video game characters. With the Moorhuhn shooter bundle, the world's craziest chicken is back for the hunting season.

Read more below...
---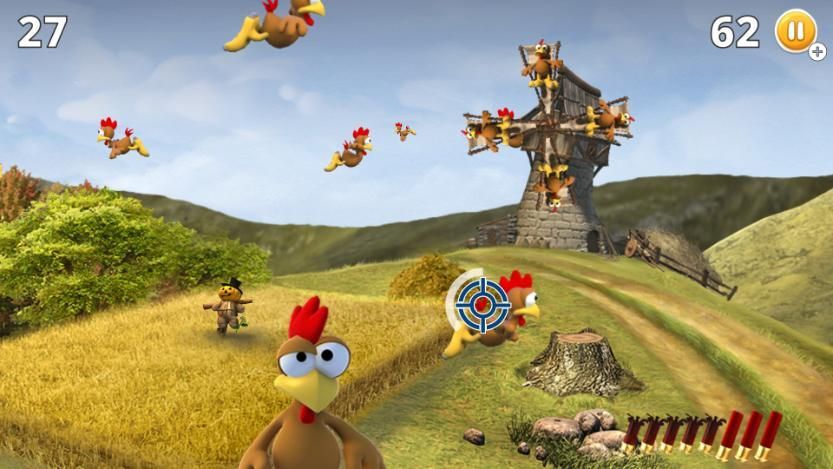 The world's craziest chicken is back for the hunting season.
---
Take on the role of the chicken hunter as you move the screen from left to right in search of more chickens and power-ups. Use your bullets to shoot incoming birds. The harder they are to get, the more points they are worth

Variety of game modes
• play in single-player, shoot as many chickens as possible to get the most points to beat your record.

• In the 1 vs 1 duel, players compete to hunt more chickens than their opponents in only 90 seconds

• In local multiplayer, 2 to 4 players take turns to see who aims better and shoots faster!

Speed
• Choose one of three speed settings for maximum hunting success

Rankings
• Beat your own top scores over and over again and compete against friends and players around the world for top position on the leaderboards.

Online/Offline
• Play whenever and wherever you like. No internet connection is needed to hunt. However, you need an internet connection to put your best score on the global ranking and to see other players' scores.