Let's Sing 2022 1 Mic Pack

Become the ultimate superstar in Let's Sing!
Are you ready to take on the perfect mix of 30 new chart breakers and all-time classics and rock the stage? Sing alone or grab your friends for a battle of the voices in on- and offline game modes to determine once and for all who is the best singer around. Experience the "Let's Party" mode with up to eight singers or climb to the top of the worldwide online leaderboards.

Includes 1 Mic Pack

Read more below...
---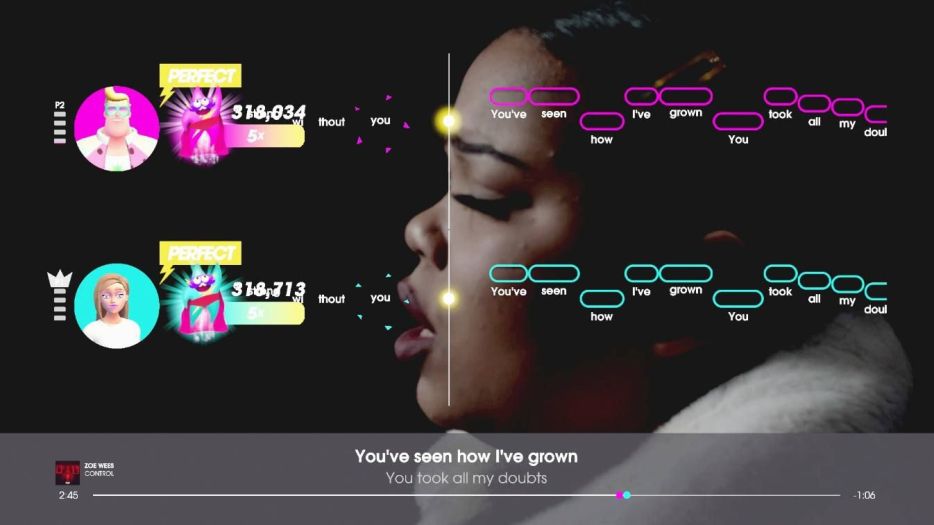 Become the ultimate superstar in Let's Sing!
---
• Strong playlist with 30 international hits and original music videos (20 tracks and 10 DLC tracks)

• Eight thrilling Game Modes: Legend, Classic, Mix Tape 2.0, Jukebox, Playlist Creator, Feat., World Contest and Let's Party

• No microphone at hand? No problem - turn your smartphone into a mic!

• Co-op modes for up to eight players!

• Sing solo or up to four players

• Switch: choose between within maximum of 4 Smartphones, 2 USB-Mics and 1 headset

• Climb the online leaderboard and get more song packs in the online store like 'Best of 90's', 'Party Classics' and more

Game Modes:
• Legend:
Sing your way to the karaoke throne in Singleplayer mode. Grab a microphone, earn stars and defeat your competition to prove that the spotlight is yours!

• Classic:
Sing alone or grab your friends and make it a party. Hit the right notes to score points – can you crack the high score and reach the top of the global leaderboard?

• Mix Tape 2.0:
Mix songs to create your own unique mixtapes in this mode. Each mix is dynamically generated and guarantees a playlist that never repeats itself.

• Feat.:
Find your perfect match! The better you sing together, the higher your Compatibility Score. Sing with friends and family or even team up with your idol to max out the score.

• World Contest:
It's you against the world! Climb to the top of the leaderboard by challenging friends or another singer online all around the world.

• Jukebox:
Lean back and enjoy a list of songs for your next jam session.

• Let's Party:
Eight players, two teams and randomly chosen game modes: this option will take your Let's Sing party to the next level.

• Playlist Creator:
This system now allows you to pick which mode to play as well as songs you want to sing. The player can now create their own playlist and play it in classic and feat mode.

DLC:
• Extend your playlist with 10 more international songs!

• Ariana Grande "positions"

• Jason Derulo & Jawsh 685 "Savage Love (Laxed - Siren Beat)"

• Shawn Mendes, Justin Bieber "Monster"

• Aladdin "A Whole New World"

• Sia "Snowman"

• Bruno Mars, Anderson .Paak, Silk Sonic "Leave The Door Open"

• The White Stripes "Seven Nation Army"

• Depeche Mode "Enjoy The Silence"

• Crazy Town "Butterfly"

• P!nk "What About Us"