Bonus program

Race through the chaotic streets of New Yellow City in Taxi Chaos! Nothing is too extreme in getting your passengers to their destination on time!

Read more below...
---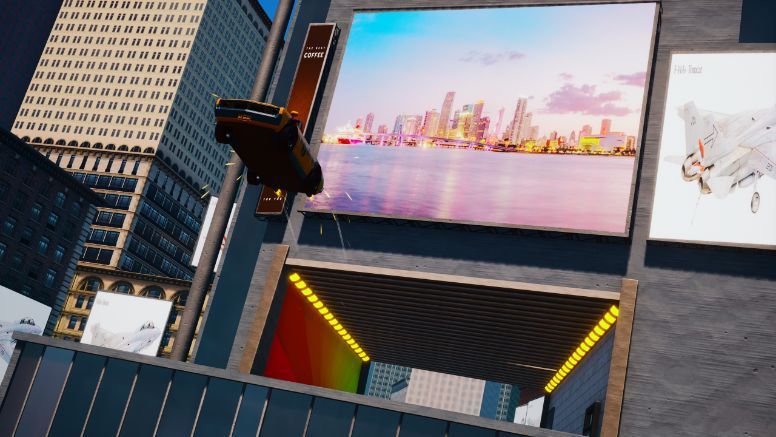 Navigate the crowded city streets of New Yellow City, smash through mailboxes, find shortcuts, drive over rooftops or literally jump over the competition!
---
Your taxi has a unique power that lets you jump over other vehicles and onto rooftops. Find the fastest and craziest routes to deliver your passengers to their destinations on time.

Experience three distinct game modes!
Enjoy the classic Arcade Mode and earn the most cash within the time. Cruise around in Free roam and learn the secrets of the city. Or step up for the real challenge in Pro Mode and earn extra time with every delivery to earn the most cash. Register your high score to the online leaderboard for international fame!

Explore and master the streets
Drive through New Yellow City, inspired by New York City, and discover various landmarks of the Big Apple, including the Empire State Building and Central Park!

Reckless driving is rewarded!
Speed through the city streets, jump on-ramps, and even take a shortcut by driving over rooftops! Get higher cab fares by driving recklessly with near misses, crazy jumps, and turbo boost all while still being on time!

Choose your ride
Break the rules of the road in seven extreme rides: from the iconic yellow cab to an exotic supercar or a full-blown muscle car! Unlock all rides and complete your collection.

Crazy characters
Drive around the city as the seasoned cab driver Vinny or the self-proclaimed influencer Cleo and pick up the craziest of customers! Get to know your bizarre passengers through hilarious and fully voiced conversations! Pick up a hipster, plumber, rockstar, alien, and many more!

Put your skills to the test!
Try to the beat the high scores of the developers and take the challenge online by comparing your scores with other players in the online leaderboards.