Bonus program
Currently 3 people are about to buy this
Human: Fall Flat Game of the Year Edition

Human: Fall Flat is a light-hearted, hilarious platformer set in a world of floating dreamscapes.

Each dream level provides a new environment to navigate, from mansions, castles and Aztec adventures to snowy mountains, eerie nightscapes and industrial locations. Multiple routes through each level, and perfectly pitched puzzles ensure exploration and ingenuity are rewarded.

Of course, your Human's wobbly movements don't make things easy, and whether you're jumping, climbing, carrying or swinging, things can easily go very wrong - with very funny results.

Should your Human fall from a rope, misjudge a platform or even get pushed off a cliff by a friend, never fear: they will simply fall back into the dream, ready to try again and again.

Read more below...
---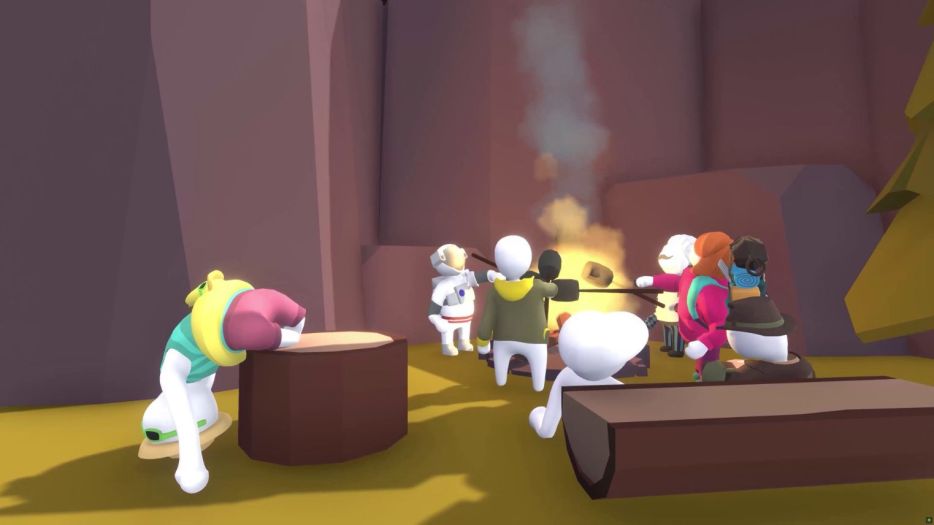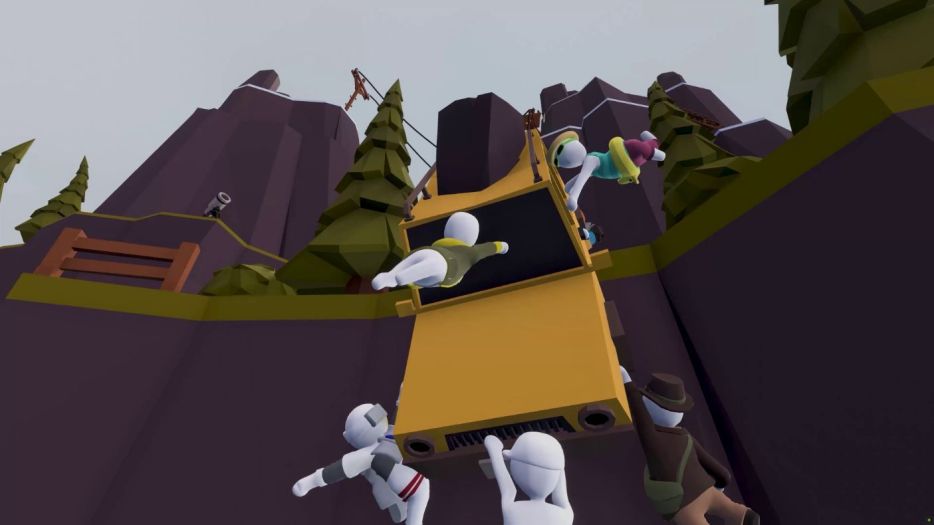 Should your Human fall from a rope, misjudge a platform, or even get pushed off a cliff by a friend, never fear
---
Human: Fall Flat can be played solo, in local split-screen co-op for up to 2 players, or with up to 8 players online for even more laughter. What's more, regular free level releases mean there's no end to the fun in sight!

Characteristics:
• More Humans, More Mayhem: Hilarious Multiplayer, the game's breakout mode has players laughing out loud. Need a hand getting that boulder on to a catapult, or need someone to break that wall? Online multiplayer for up to 8 players transforms the way Human: Fall Flat is played.

• Perfect puzzling: Puzzles slowly increase in complexity enabling seamless progression and rewarding exploration.

• A Blank Canvas: Your Human is yours to customize. With outfits from builder to chef, skydiver, miner, astronaut and ninja. Choose your head, upper and lower body and get creative with the colors!

• A Vibrant Community: Streamers and YouTubers flock to Human: Fall Flat for its unique, hilarious gameplay. Fans have watched these videos more than 0.7 Billion times!
• 700 Million+ views
• Over 200 videos with 1M+ views
• Biggest video: 29M+ views
• HFF featured by top YouTube content creators:
• elrubiusOMG (40M subs) – HFF video with 10M views
• Vegetta777 (32.5M subs) – Over 10 HFF, many with over 3M views
• Jacksepticeye (27.3M subs) – Over 8 HFF videos each with over 2M views

The Next-Gen Anniversary Edition includes all 17 levels released YTD in-disc:

Since launch, eight brand new levels have been released with even more on the horizon. What could the next dreamscape have in store?

Dark:
Dark takes place as Bob is dreaming of a night-time area, set under the haunting glow of a full moon and complete with classic horror tropes and imagery. With all sorts of tricky puzzles and devious contraptions, Dark will have players messing with magnets, electricity and, of course, Bob's signature wobbly physics!

Steam:
This brand-new core level is set in a steam-powered industrial environment, where new puzzles and mechanics revolve around making the abundant amounts of water vapor work for you. Start an industrial revolution, manipulate barrels, pipes, furnaces and more to make your way to the exit!

Ice:
Humans aren't the only things falling from the sky! They're joined by beautiful billowing snowflakes that have liberally powder coated a new level set in an alpine resort. Snow and ice create fun and frozen challenges.

Thermal:
It's a gold prospector's dream come true in the frozen mountains of 'Thermal', the brand new gold-filled level for Human: Fall Flat. You and up to seven friends can interact with huge mining machines and manipulate rising air thermals to traverse giant caves, all in search of that elusive gold.

Factory:
Are you ready for a smashing good time in the new Human: Fall Flat level, Factory? It's packed with metal mechanisms and switches to create machine parts.

Golf:
Pack your clubs, clambour into the nearest cart and don't forget to practice your swing. But watch out: Golf offers anything but a relaxed tee off. These fairways throw up more than just rough grass and sandtraps! Watch out for giant clubs that propel your Human through the air and don't miss catching a ride on the windmill sail. The view is even better with seven friends online!

City:
New level 'City' is an urban dreamscape packed with futuristic new sporting challenges. Humans can partake in hilarious versions of bowling, crossbows and basketball as they explore the level's busy neon-lit rooftops. There's also a brand new experience coming your way like nothing seen before in a Human level. That's right, you can pilot your very own drone!

Forest:
The great outdoors is calling! Grab your friends and explore lush woodland and snowy hilltops in search of rest and relaxation in Human Fall Flat's new level, Forest! But never fear, this is Human: Fall Flat, and mystery and mayhem are just round the corner. This Worldwide Workshop competition-winning level offers more than your average camping trip. There are crashed planes to clamber over, heavy machinery to control and cold climate conundrums to solve. Did somebody take a wrong turn?

Awards:
And the Winner Is! Winner of over 10 industry awards, Human: Fall Flat continues to delight fans for its charming co-op gameplay enjoyed by incredible numbers of players.

2020: Rock, Paper, Shotgun - Top 25 Best Co-op Games Ever Made
2019: Switch eShop Japan – Top 10 selling download game
PlayStation Awards 2019 - Indies and Developer Award
Steam Awards 2019 recognition: "Best Sellers" - Bronze category
2018: Switch eShop Japan - #1 selling download game
TIGA Awards 2018 Best Casual Game
Steam Awards 2018 recognition: "Top Simultaneous Players" with over 25,000; "Best Sellers" - Bronze category; "Top played games 2018"; "Top 10 Global Chart Jan 2018"
2017: Top 10 sales on Switch (EU/JAP/US)
Top 10 sales on PlayStation 4 (US)
Lithuanian Game Developers Award Winner