Bonus program
Currently 4 people are about to buy this
Madden NFL 23 + 2 Elite Ultimate Team Players + All Madden Gear + Maggen Strategy Item

Play your way into the history books.

EA SPORTS Madden NFL 23 on PlayStation®5 and Xbox Series X|S introduces the all-new FieldSENSE™ Gameplay System which provides the foundation for consistent, ultra-realistic gameplay, and equips players with more control at all positions in every mode. FieldSENSE leverages animation branching technology and a suite of new user control mechanics for a seamless gameplay flow with authentic results on every play. Play your way into the history books in Face of the Franchise: The League where new position-specific mechanics are brought to life by FieldSENSE and player-focused cameras bring you closer to the action and add to gameplay depth by allowing you to dominate every snap, from anywhere on the field. Call the shots from the front office with updates to Franchise, and experience simplified team-building and convenient competition as you assemble the most powerful roster in all of Madden Ultimate Team™.

Read more below...

---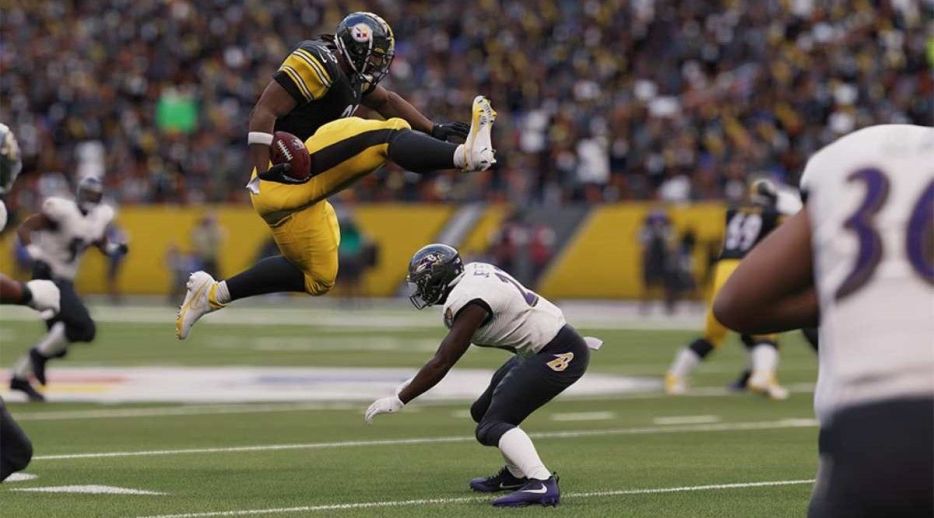 Plan and strategize like an NFL head coach with refined scouting, staff management, and weekly strategy features to take your Franchise to the top

Franchise
Call the shots from the front office.
Plan and strategize like an NFL head coach with refined scouting, staff management, and weekly strategy features to take your Franchise to the top. New athlete motivations like team location and salary demands factor into contract negotiations and add to the drama of NFL free agency within Franchise. Updated Trade Logic AI represents the value of star players more accurately for fair and more realistic offers.

Face of the Franchise: The League
Play your way into the history books.
The League drops you into your fifth NFL season at a skill position of your choice (QB, WR, RB, CB, MLB) and you're seeking a fresh start with a new team. Negotiate a one-year "prove-it" contract with one of 32 NFL teams and show out with great on-field performance to earn rewards and level up. The addition of New Drive Goals and Drive Summaries allow you to tweak your experience throughout a game and get feedback and rewards based on how well you play. Get performance boosts from weekly activities and training between games while Madden Ratings Adjustor Chad Johnson guides your career development by providing ratings updates as you strive for the highest level of prestige on your Road to 99. Will your NFL career rank among the all-time greats? It's up to you.

Madden Ultimate Team
Simplified team-building, convenient competition.
Develop your dream fantasy roster of current NFL superstars, Hall of Fame legends, and more. Always have something to play for with the first-ever Field Pass challenge and reward tracker in Madden Ultimate Team. Play to earn MUT Champions entry tokens and choose to compete at your convenience. Simplified Set building lets you navigate your content binder more effectively so you can focus on improving your Ultimate Team roster all season.

The Yard
Become the world's greatest in this tricked-out, backyard-inspired 6v6 gameplay set in fantastical locations around the globe. Do it in style with the hottest gear in the game. Fully integrated into Face of the Franchise, access more opportunities for Avatar progression by playing in The Yard.

Superstar KO
Squad up and feel like an NFL superstar in Madden NFL 23's fast co-op eliminator mode where Superstar X-Factor abilities are always on. Play short games in unique stadiums with dynamic rules and icons of football culture.

Play With Friends
Play Like Mad with the squad and show off in multiplayer modes like the tricked-out 6v6 The Yard ranked, feel like an NFL superstar with always-on Superstar X-Factor abilities in Superstar KO, or test your skills in online head-to-head.

Play Now
Compete in head-to-head online and offline games (single and multiplayer) or single-player offline against the CPU. Play your way with settings including quarter length, rules, stadiums, and uniforms.




Disclaimer
*CONDITIONS AND RESTRICTIONS APPLY. SEE https://www.ea.com/games/madden-nfl/madden-nfl-23/buy/offer-disclaimers FOR DETAILS.

Copyright/TM notices section:
© 2022 Electronic Arts Inc. Electronic Arts, EA SPORTS and the EA SPORTS logo are trademarks of Electronic Arts Inc. The mark "John Madden" and the name, likeness and other attributes of John Madden reproduced on this product are trademarks or other intellectual property of Red Bear, Inc. or John Madden, are subject to license to Electronic Arts Inc., and may not be otherwise used in whole or in part without the prior written consent of Red Bear or John Madden. All rights reserved. Officially Licensed Product of NFL PLAYERS INC. and NFLPA.COM. Officially Licensed Product of the National Football League.