We all know that gyms are full of people who's new-years resolutions have been to lose weight and get fit,  new gym memberships sales must soar at this time of  year,  But how about instead of paying out for that new gym membership that you'll more than likely have stopped using in a couple of months anyway and you treat yourself to a personal trainer that you can switch on and use at will in the comfort of your own home instead?  Excercise programes come to life when combineed with a some form of viual stimulation such as a game,  just visit a gym that has modern CV equipment fitted with TFT-screens and they will more than likely be the busiest machines in the place as they allow you to briefly escape those mundane mind numbing repetitive excerise routines. 
 Fit-Games such as Active 2 give you an alternative choice as you can now use gaming consoles such as the Wii, Sony's PS3 with a Move controller or Microsoft's Xbox 360 with a Kinect sensor with one of the most high profile fit-games (fitness games) available, EA Sports Active 2, but, the million dollar question is, Is it any good and will you feel the sweat?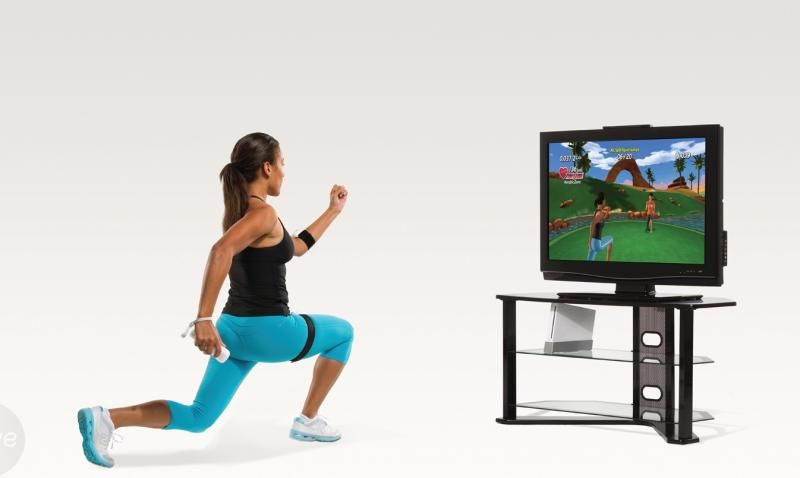 EA Sport's Active 2 is one of the most advanced exercise workouts you perform on any console today, It comes complete with the ability to track your bodies motion and measure your heart beat. The heart rate monitor allows you see how much effort you are putting into each excercise aswell as allowing you to keep track of and how many calories you are burning more accurately than any other fitness game. Another benefit is that your heart beat is displayed on screen along with an intensity meter that ranges from 1-5, this gives you a great visual aid to keep yourself motivated, and if you register on the active 2 website you can also track your stats giving you no reason not to keep working out.
When you first load up Active 2 you'll be asked to choose a personal trainer, Here you have the choice of male or female, these trainers will be with you thoughout your workout to show you how to perfom each exercise correctly and also to give you some gentle encouragement when you look like you may be slacking off by not performing the correct form for each exercise. Once you have chosen your personal trainer you then select things such as your goals and how many days per week you wish to train and at what intensity the pace of the workout will be, Once you've set up those options you can then create an on-screen character to represent you by mimicing your movement, this is a great way for you to see if you are keeping form during the exercise and keeping up with your instructor.
The fundamental Keys to your success using fit-games such as Active 2 are self discipline and flexibilty, and I found that Active 2 lets you have both, you can schedule your workout routine(s) over nine weeks which lets you decide how often you want to train, and you also set the pace in Active 2, which, unlike some of the other fit-games, gives you complete control over the level of intensity that ranges from easy to hard.
The fun starts as soon as you start your routine, your instructor will take you through each of the various workouts with a tutorial (which you can skip if you know what you're doing), Each workout starts with a warm up routine and ends with a warm down routine with your chosen exercises in-between, The 70+ exercises you have to choose from are extremely varied and range from moutain biking, boxing, dodgeball, bicep curls, crunches, squats and jumps to make sure every muscle fibre is throughly worked out and in the correct ego free form, I say ego free because there is no need to have an ego when you are training in your own property, and we've all seen those gym-members who prioritise the weight of the barbell / dumbell over the correct form simply because they think it makes them look better, Active 2 is all about correct form, as it should be.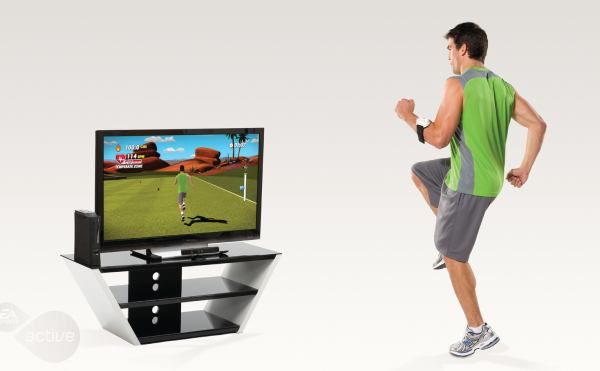 Active 2 has a slick menu system thats straight forward and easy to use, giving you the ability to view all of your workout stats, take part in weekly fitness tests or take part in Lifestyle & Nutrition surveys which allow you to keep an eye on how many calories you have burned outside of your Active 2 activities.
If you don't want to workout alone Active 2 lets you workout alongside a training partner such as a friend or family member or with a friend/training partner online, The only thing you'd need to take into consideration would be that they would need their own tracking sensor for the PS3 Move and Wii versions, Whereas the Kinect version lets two people workout together, the only thing you may need is another heartbeat sensor if your training partner wants to be able to keep a workout record or monitor intensity via the heartbeat monitor.
Active 2 has an online community where you can become part of a group and workout with that group, which is a great way to keep you motivated in working out.
As a personal trainer EA's Sports Active 2 is one of the best around with a lot of good features and motivational aids to keep you interested in working out, as well as the ability to download fresh exercises. Its a perfect solution for those who prefer to train alone or who don't want to visit a sweaty ol gym.
Active 2 is also a great way to supplement any other kind of training you may do, such as yoga, boxing or marial arts.
90/100
The PS3 Move & Xbox Kinect versions of Active 2 were used for this review.