Your Shape: Fitness Evolved is an exercise game (fit-game) that puts Kinect's technology to great use by utilising the Kinects real-time motion capture abilities and using the data for Player Projection that places the captured image of your body into the game, This was a bit surreal at first given the amount of detail that the Kinect can see, as it not only showed my outline but it also clearly showed the logo that was on my sweatshirt!
The first time you use Your Shape: Fitness Evolved the Kinect will scan your body and take measurements of things such as height, waist line, the length of your arms and legs, chest size, once the scan is complete you will be prompted to enter your age and weight and fitness goals, Your Shape F.E then produces a personalised workout routine for you, these will show up as being "recommended"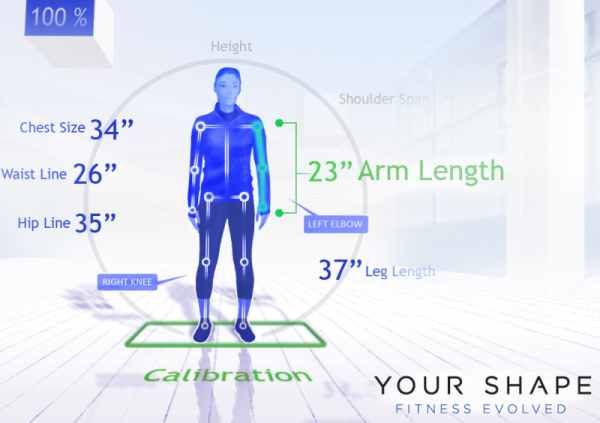 Once you start using Y.S.F.E with Kinect you'll soon realise that almost all other non Kinect fitness games / programmes now appear slightly dated, Not only do you no longer need to wave a controller around as you work out, But now if you don't carry out an exercise in proper form you'll be told. I've heard stories of Y.S.F.E not working properly if you're wearing baggy jogging bottoms or sweatshirt, But this was not so in my experience, On several workouts I was wearing very baggy jogging bottoms and a baggy hooded top and my workouts have been absolutely fine..
Y.S.F.E has three main areas, these are Gym Games & Classes, Activities and your personal program, almost all of the exercise routines can be found in Activities.
Classes are fairly simple offering two choices, these being Cardio Boxing and tai-chi, both of which have challenging routines that intensify as you progress through them.
Gym Games on the other hand has four mini-games to play in the gym, these are:
Virtual Smash: punch and knee the blocks that pop up on screen, good for mid-section (torso twists) and coordination. As you progress you'll also need to duck a pendulum that swings.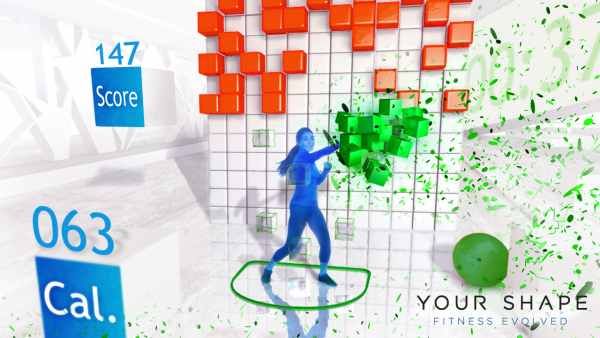 Light Race: A circle of boxes appear on the floor around you, and they randomly light up, you have to then stand on them as quickly as possible.
Stack 'Em Up: This game is about balance, and you have to hold up a virtual board while trying to catch blocks that fall, you must then in turn tip these into virtual holes that appear on either side for points. Some of the blocks on the harder difficulties are on fire and you have to stand on one leg to release water and put out the flames.
Loop a Hoop: This is a hula-hoop type game (if you hadn't guessed), where you have to reach up and grab a virtual Hula Hoop and then Hula with it by rotating your pelvis and moving your arms around.
For all it's good points though Y.S.F.E has a few areas where it could be improved upon, Such improvements could include things like the ability to make and save your own routines, make it easier to select the exercise/activity you're after and maybe in future also include heart beat tracking so that you can see how intense your workout has been and if possible make the exercises more fun filled, and don't forget to add some personality & humour to those trainers / instructors as working out needs to divert your attention from the mundane.
That said though, Kinects technology used with Your Shape: Fitness Evolved is amazing and a definite positive step in the right direction for a launch title.
Good Points: Great use of Kinects motion capture, Gives good flexible workouts, Nice looking interface that's very easy to use. Not So good points, but can live with them: could use more measurements during workout to gauge intensity
Bad Points: None really.
As someone who has been into heavy gym work since the late 80's I found that YSFE was extremely easy to use and the results were pretty good, It's another tool for anyone who wants to work out at home in their own time.
8/10
Your Shape Fitness Evolved is available on its own for £25.85  or bundled with a Kinect Sensor for  £163.85