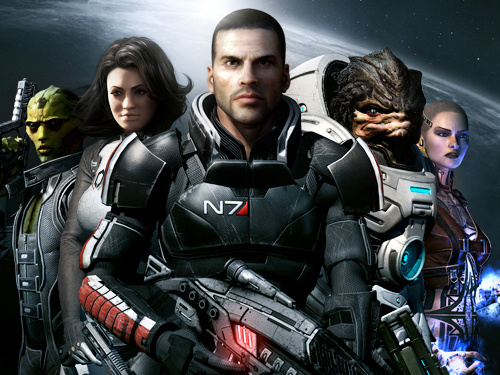 PlayStation3 owners rejoice, as you're about to get a massive "1UP" over Xbox 360 Fanboys. I mean, you're all chuckling enough at the thought of one of the biggest franchises on the 360, Mass Effect, deciding to port over to the dark side, right? Well, what if I told you that the expected PlayStation3 port of said game was not only going to contain all previously released DLC, over 6 hours worth, but also get a boost in terms of appearance?
What if, what if, it had been announced that the PlayStation3 port of Mass Effect 2, would use Mass Effect 3's graphics engine? Would you love me forever? Well, prepare yourselves as I confirm it's not wishful thinking, and I ain't teasin' ya! Here's the scoop…
"We actually created the engine for Mass Effect 3 and used that to make Mass Effect 2 on PS3. So we took the content, the story, and all of the other assets that made up Mass Effect 2, and we put it into the Mass Effect 3 engine. And that's what we are actually delivering."

"PS3 is now an integral part of the Mass Effect franchise and will be right there alongside the Xbox and PC versions of the game, and Mass Effect 3 will receive a simultaneous launch on all three platforms come release day."

Producer Jesse Houston, via BioWare podcast.
Not only that, but all necessary patches and updates will be condensed into one neat little package, and the games controls themselves will be tailored to suit the DualShock 3, all in order to give PS3 gamers the best possible ME experience.
This, is all very good news! I feel another playthrough coming on….