Bonus program
Currently 3 people are about to buy this

Powered by Football™, EA SPORTS™ FIFA 22 on PlayStation®5 and Xbox Series X|S moves the game forward with groundbreaking next-gen HyperMotion gameplay technology that elevates every moment on the pitch.

HyperMotion integrates advanced full-team mocap data and machine learning to heighten gameplay in every match in FIFA 22, harnessing the power of next-generation consoles to deliver the most realistic, responsive, and fluid gameplay experience we've ever built.

FIFA 22 brings a new season of innovation across every mode in the game; enjoy more consistency between the posts with a goalkeeper rewrite that brings more composure to the most important position on the pitch, live out your football dreams as you create and manage your custom club to glory in Career Mode, get rewarded for your flair with restyled gameplay in VOLTA FOOTBALL, welcome back football's most memorable players as FIFA Ultimate Team™ Heroes, and feel the atmosphere of your next big game with the most immersive matchday experience ever seen in EA SPORTS FIFA.

Read more below...
---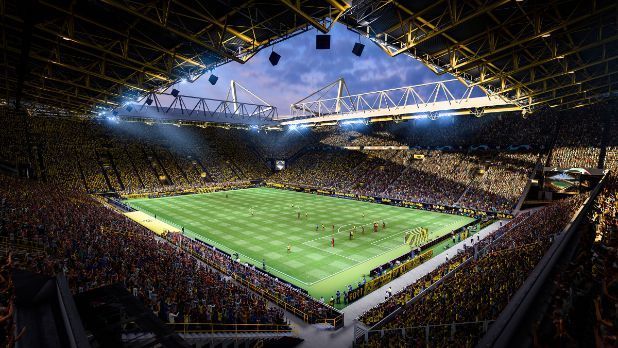 FIFA 22 brings the game even closer to the real thing...
---
GAMEPLAY
Brand new for EA SPORTS FIFA and on next-generation consoles, HyperMotion combines two technologies for the first time ever, revolutionising football gameplay: Advanced 11v11 Match Capture and Machine Learning.
Advanced 11v11 Match Capture
Xsens suits enable motion capture from 22 professional footballers playing at high intensity for the first time. This unprecedented volume of high-quality real-human movement data powers how both individuals and teams move across FIFA 22.
Machine Learning
Learning from more than 8.7 million frames of advanced match capture, our cutting-edge and proprietary machine-learning algorithm learns from over 8.7 million frames of advanced match capture, then writes new animations in real-time to create organic football realism across a variety of interactions on the pitch.

The result is a more realistic, responsive and fluid gameplay experience in every match across every mode of FIFA 22 on next-generation consoles

CAREER MODE
Live out your football dreams in FIFA 22 Career Mode as you create a club and lead them from relegation candidates to global giants, and enjoy an overhauled Player Career experience that gives you more ways to progress, achieve, and immerse yourself in your Pro's journey through the game. FIFA 22 Career Mode brings you more authenticity than ever before thanks to the integration of the new UEFA Europa Conference League alongside fully-licensed versions of the world's biggest league and club competitions including the UEFA Champions League and UEFA Europa League, CONMEBOL Libertadores, Premier League, Bundesliga, LaLiga Santander, and many more.

VOLTA BALL
VOLTA FOOTBALL returns with more flair all over the pitch and new ways to express your style and connect with your squad in street football playgrounds all over the world. Bring more heat to every match with overhauled small-sided gameplay that rewards you for your skill on the ball, and play unique events in special locations each season as you unlock new gear through a new seasonal progression system that lets you earn XP towards VOLTA FOOTBALL rewards, whichever mode you play.

FIFA ULTIMATE TEAM
Build your dream squad and compete in the most popular mode in FIFA, with thousands of players to add to your club and countless ways to customise your Club on and off the pitch. Whether you want to play on your own in Squad Battles, together in FUT Co-Op, Online in Division Rivals, or against the best in FUT Champions, FIFA Ultimate Team™ (FUT) connects you to the world of football throughout the entire season with a range of content influenced by real-world performances and competitions including the UEFA Champions League, UEFA Europa League, and CONMEBOL Libertadores.
FIFA 22 Ultimate Team redesigns how you compete in Division Rivals and FUT Champions to create a more accessible way to test your skills and progress against other players, gives you even more ways to make your club your own with new depths of customisation both on and off the pitch, and introduces FUT Heroes - the return of some of football's best-loved players.

PRO CLUBS
With new customisation options to make your club stand out in the stands and on the pitch, a new player growth system that puts you in control of your Virtual Pro's development, and streamlined social play that makes it easier than ever to find your next game, it's time to get the squad together for a new season of Pro Clubs.

UNRIVALED AUTHENTICITY
Experience unrivaled authenticity in FIFA 22 with the most true-to-life experience of The World's Game featuring football's biggest stars and teams. With 17,000+ players across 700+ teams in more than 90 stadiums and over 30 leagues, FIFA 22 is the only place you can play the iconic UEFA Champions League, UEFA Europa League, brand new UEFA Europa Conference League, CONMEBOL Libertadores, CONMEBOL Sudamericana, Premier League, Bundesliga, and LaLiga Santander.