Currently 2 people are seeing this product

Exoprimal
- This battle of the ages unfolds in the main game mode, Dino Survival, where two teams of Exosuit pilots race to complete objectives while staving off swarms of ancient creatures. In Exoprimal, each match is different from the last. In some scenarios, rival squads are pitted against one another in direct confrontations. Other times, adversaries must forge uneasy alliances to survive encounters with formidable foes like the terrifying and otherworldly Neo T. Rex.
Suit up, Exofighters! A dinosaur storm is on the horizon in Exoprimal™. Hordes of history's most ferocious beasts are mysteriously appearing across the globe and your cutting-edge combat suits are the only things standing in their way.
---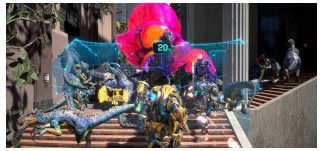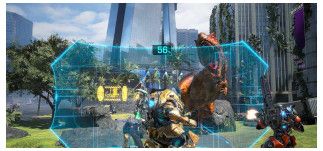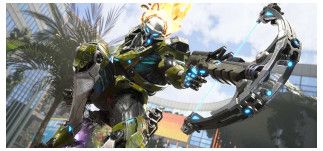 FEATURES

• Co-op with a Competitive Edge – Dino Survival pioneers a new 5v5 team-based online multiplayer experience. Race to complete a dynamic medley of missions quicker than your opponents. Prepare to take down a rampaging triceratops one moment before defending a downed aircraft from thousands of raptors in the next. Matches climax in direct confrontations between squads – or can even see rivals join forces to defeat a common enemy. Only the strongest and sharpest Exofighter crews will adapt with lightning speed and make it out alive.

• Advanced Armory – Exoprimal packs an arsenal of Exosuits to wear into combat. Each suit has its own specialty, and Exofighters can swap between them on the fly to adapt to any situation. Cut through dinosaurs with Assault models, heal teammates and enhance their abilities with Support types, or shield allies from harm with Tanks. Exosuits can also equip an array of rigs to build upon their existing strengths or make up for their weaknesses. Added cosmetics are also available to customize your Exosuits, impress your friends, and intimidate your enemies.

• Mesozoic Menace – Fight to survive against swarms of countless velociraptors, pteranodons, and a menagerie of other prehistoric beasts, including imposing behemoths like the hulking carnotaurus and ironclad ankylosaurus. And make sure to look out for spacetime-twisted Neosaurs warping into the fray with their mutant powers!

• Futuristic Fidelity – Powered by RE Engine, Exoprimal unleashes unprecedented numbers of on-screen enemies to slay with high-tech machinery while delivering breathtakingly photorealistic visuals. Capcom's proprietary engine has powered highly acclaimed titles such as Resident Evil Village, Monster Hunter Rise, and Devil May Cry 5.

• Unravel the Mystery – In 2040, dinosaurs inexplicably began to reappear across the globe and threaten humanity's existence. Three years later, a strange vortex causes an aircraft carrying a group of Exofighters to crash-land on a strange island where a sinister AI forces them to fight for their very lives. Unlock new story sequences by playing Dino Survival to piece together the adventure and uncover the mystery behind the dinosaur outbreaks.