Currently 8 people are about to buy this

Madden NFL 24
- SAPIEN Technology delivers a leap forward in NFL player realism with more body definition and variation to athlete physiques resulting in realistic player movement, while smarter AI behavior provides more confidence in your teammates to execute your game plan and a suite of additional enhancements to FieldSENSE™ gives you greater control and realism on the field.
This game includes optional in-game purchases of virtual currency that can be used to acquire virtual in-game items, including a random selection of virtual in-game items.
Pre-order* the Standard Edition and receive:
• Dual Entitlement** (PlayStation & Xbox)
• Josh Allen Elite Player Item
• Choice of 2 Strategy Items (1 Offense & 1 Defense)
• NFL Marble Bills Gear
---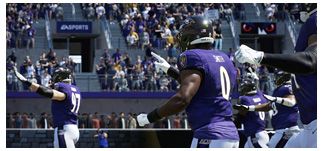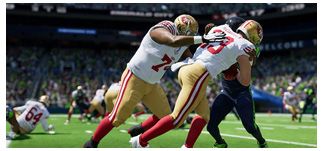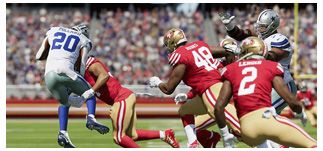 FieldSENSE™: INCREASED CONTROL AND REALISM

The newest iteration of FieldSENSE™ provides an enhanced gameplay foundation giving you greater control and delivering realism to all the ways you play.

AI Enhancements
Smarter AI enables smoother and more realistic player action and reaction to the plays you call, providing more confidence your AI teammates will execute your gameplan the way you intend.
QB awareness
Ball carrier pathfinding
DB awareness

Skill-Based Passing 2.0
Dive for a winning one-hander with improved catching AI, thread the needle with surgical accuracy using new throw animations and anticipate more authentic defensive reactions with enhanced DB behavior introduced in Skill-Based Passing 2.0.

Hit Everything 2.0
The ratings and situational awareness of your teammates is now more impactful, giving you confidence they can push the pile during stand-up tackles for extra yardage and attack the football more effectively.

Superstar: The League
YOUR STARDOM. YOUR STORY.
Achieve greatness in your NFL career with game-changing control thanks to FieldSENSE™. Select your position, body type and customize your Superstar to complete objective such as the NFL Combine to help determine your Draft order, level up to a 99 OVR, and build your legacy as you navigate all-new mini games and live player grading across a variety of positions and customizable avatars throughout the year.

Superstar: Showdown
SHOW 'EM HOW IT'S DONE
Show off and show out in this all-new atmosphere. Further progress your avatar and play with and against friends in 3v3 matchups. Call your plays on the fly like a dominant superstar, get real-time player grading, and do it in style sporting the hottest gear in the game.

Cross-play
PLAY WITH FRIENDS
Connect with players across PlayStation®5, Xbox Series X|S, and PC, then show them what electrifying talent looks like in competitive modes like Online H2H, and more.†

Franchise
LEAD YOUR LEGACY
Set the stage to be a Super Bowl powerhouse. Play new mini games and training camp drills to progress your team. Utilize a more streamlined team relocation feature with new cities and new uniforms to create your own Franchise story. Build your future using Free Agency 2.0, restructuring contracts and making counter offers to cornerstone playmakers. Acquire and retain superstars using 50 new unique draft generators, new Trade Logic Tuning, six trade slots and new 3rd Talent Trees for coaches. Use new commissioner tools to customize your experience in online and offline connected leagues.

*Conditions & restrictions apply. See https://www.ea.com/games/madden/madden-nfl-24/disclaimers for details.
**Conditions apply. See https://www.ea.com/games/madden-nfl/madden-nfl-24/dual-entitlement for details.
†Conditions apply. See https://www.ea.com/games/madden-nfl/madden-nfl-24/cross-play for details.